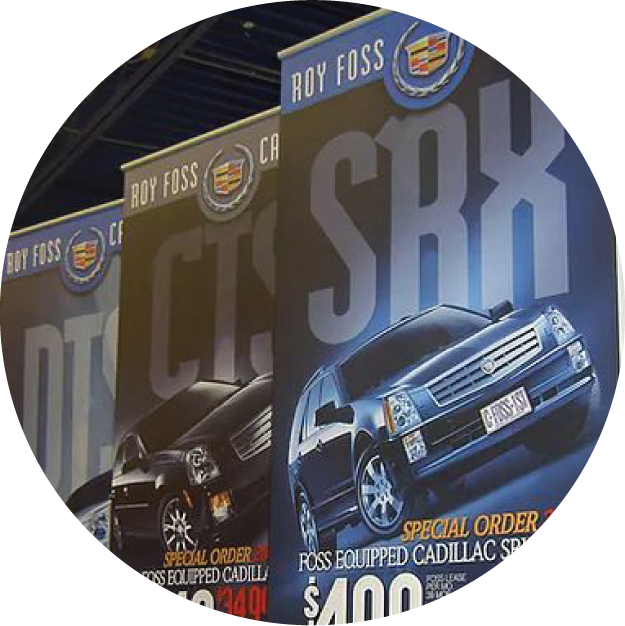 Trade shows and exhibits are one of the ultimate spaces to promote your business.
Take full advantage of the space you're given with a fully branded booth. From banners, to tents, to displays, table and floor graphics, and more, it's important to stand out. Your marketing materials are extremely important in an environment like this. Let us help you maximize your brand's potential.
Do you want to stand out inside a hall with 200+ exhibitors? Get noticed from almost anywhere across the show floor. Simply look up and find yourself with these extra-large hanging shapes over your booth.
Let your brand or message be seen from the rafters. Our large hanging banners make a great decorative item for larger areas such as stages and lobbies. Elevating your banner gives you a one-up over other advertisers, as you'll have that much more visibility throughout the trade show space.
This is the most powerful way you can outdo your competition. It is made of a modular extruded frame and a full color zippered tension fabric print. Our hanging signs are available in different diameters and shapes to choose from. As most of our products, they are packed small in a case and can be hung by the show staff with aerial lifts.
Banner Stands or Roll up Retractable Banners are a great way to keep your sign or presentation completely portable. While trade shows are currently off-limits due to COVID-19, it can also serve as a shield when paired with our clear film.
Quick and easy to set-up in seconds no matter where your destination takes you. Stands always includes a travel bag. A telescopic pole allows you to adjust your banner height for maximum versatility. When not in use the graphic is safely stored inside the anodized aluminum casing for future use.
Take your pick of a vinyl or fabric banner. Need to print on both sides? We can do that too. These large banners and its metal base were built to last. Don't forget to get a carrying case for it too! Need extra lighting? There are LED light attachments available too, just ask.
Branded pop up tents are another way for your brand to be visible at an event. Suitable for indoor or outdoor use, its easily collapsible frame allows for quick setup and takedown. Even at its lowest possible height setting, these tents give more than enough clearance for someone to stand under, and even for taller objects where applicable.
Tents can be printed in full colour, and with proper care will last at least a few years. Indoor-only use and proper maintenance is one way to give your tent an elongated lifespan.
Our Telescopic Banner Stands or Step and Repeat backdrops support a hanging vinyl or fabric print. Adjustable on both width and height, its ideal use is a backdrop at an event, show or a presentation. You can attach the graphic through the hemmed pocket polls, zip ties through grommets or simple hardware clamps.
Get your logo in the eyes of others — again and again and again! We are now offering custom background images to elevate your zoom meetings or create privacy for your home office. Step and repeats are a publicity backdrop used for event photography, printed with a repeating pattern such that brand logos are visible in photographs of the individuals standing in front of it. 
Print your repeated logo on the graphic of your choice. Designs on these polyester banners can range from classic and simple, to vivid, sublimated graphics. Another popular portable option, step and repeat banners can be easily transported and set up within minutes. Although indoor use is recommended, they can also be used outside in fair weather, on solid surfaces.
If you are looking to make an impact at your next event or in-store promotion but don't want all the hassle of bulky graphics, consider these practical tension fabric displays.
Tension fabric displays combine remarkable visual appeal with a user-friendly design and construction. The stretch in the fabric allows for easy assembly as well as portable storage in the provided carrying bag.
Need a backdrop that isn't a step and repeat banner? You'll benefit from a pop up display. We'll print your full colour graphic on tension fabric which will fully stretch over a strong metal frame. Pop Up displays can be used as backdrops, a way to display large amounts of information, or to simply display a larger graphic.
Your pop up display can be assembled in minutes. Once stretched out over the frame, the fabric can be held in place with velcro. Optional LED lights may also be added to the frame.
Tablecloths and table runners
Add some pizzazz to your booth's table. A fully dye-sublimated tablecloth with your brand on it is sure to be another eye-catching piece at any trade show or event. Choose between a standard table cloth, which covers the every end of the table, or a three-sided table cloth, allowing an open back for the table.
Not looking to cover the whole table? Consider a table runner instead. They may cover less area, but are just as effective in putting your brand front and centre for all to see.
Silicone Edge Graphics (SEG) are high-resolution graphics printed onto fabrics. These are finished with a silicone strip that is sewn along the graphic's edge. It is then inserted into a custom aluminum extruded frame. Depending on the profile, it can contain led strips on the inside of the frame to illuminate the graphic.
The main advantage to this product is the ability to have interchangeable graphics. Normally signage is not updated or changed because it must be done by a professional. However in this case, the end user can receive the new graphic, remove the old and push in the new message or promotion. The finished product can be freestanding, wall mounted, or suspended from the ceiling.