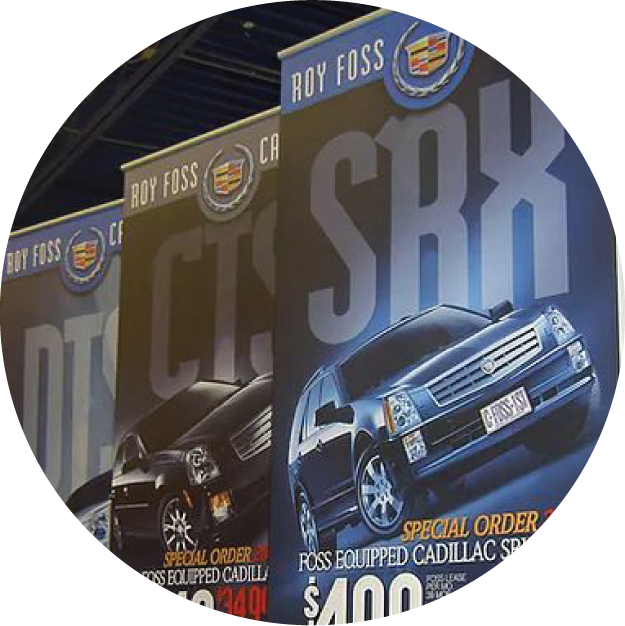 Banners are one of the most commonly found signs in businesses. Banners and displays can easily be set up in most places. Throughout your store, they can help highlight products and promotions.
Opening a new business? Hosting a huge event? Consider getting a special banner to commemorate the event. A large banner that says "GRAND OPENING" or "ANNIVERSARY SALE" or any other exciting message is sure to bring new customers through your door.
Banners can also help you advertise your business outside of your location. If you're headed to a trade show, a high quality banner or display will help your booth stand out in the sea of other vendors. You can take care of what your booth will include, and we'll take care of making it look spectacular.
Our banners are made from high quality materials, making them super versatile and cost effective. They can be finished with a variety of options such as a hem, pole pocket and grommets. There are a number of types of banners, but here are some of the most popular options available:
Traditional vinyl banners can be printed and finished in a variety of sizes to be used both indoors and outside
Mesh banners are great for high wind conditions. Construction projects, concerts and festivals.
Fabric banners are softer, washable, glare-free and offer a crease free finish to allow for folding.
Banners can be finished with a range of options such as a hem, pole pocket and grommets.
If ultimate portability is what you seek, our roll-up banner stands are your best solution. It allows for small storage and easy set-up and take-down at a presentation or tradeshow.
There are a number of ways you can go about using a banner to brand your business. If you're unsure of where to start, contact us! We'd love to hear from you and help you through the process of choosing a proper banner type in order to maximize your branding.